To see the pictures, select from the photo albums below. In many of them, there are more photos than you might see at first; they have sub-folders inside the albums. Some albums allow comments, others don't. To navigate among the albums when you're away from this home page, use the drop-down list above, or click the site name above. I hope you enjoy viewing the photos as much as I did taking them.
M5 Meetup, 28 April 2012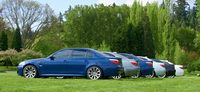 A fun morning seeing so many ///M5 beasts: Six of us, and a heavily modded 550 showed up at Redmond Town Center, in Redmond, WA. The big exotic car group didn't show up, since there was a threat of rain. No matter, we were there, and took some time to chat, meet the other Seattle M5 heroes, and listen to the exhaust notes among the offerings. We had two Interlagos Blue, one Silverstone, Sapphire Black, Space Gray, and an Alpine White, in various vintages, all E60's. Then we headed over to a grassy parking lot at Marymoor Park, also in Redmond, and took the pix you see here. Thanks everyone for coming out, and thanks to Killer-Bimmer for getting this idea going. Feel free to contact me (thom5, thom@tctrandolph.com) if you want an image of your car without the watermark, or if you're interested in prints or even a photo shoot of your favorite ///M.