To see the pictures, select from the photo albums below. In many of them, there are more photos than you might see at first; they have sub-folders inside the albums. Some albums allow comments, others don't. To navigate among the albums when you're away from this home page, use the drop-down list above, or click the site name above. I hope you enjoy viewing the photos as much as I did taking them.
Blanchard Hill, Bellingham, WA

A very long hill climb to a great view: The mountain known as Blanchard Hill is about 20 miles south of the city of Bellingham, WA. The land is managed by the state Department of Natural Resources. There are a couple good trails on it, but remember that you're the minority there: horse riders, runners, campers, and walkers are there too. So, be kind and courteous. I usually start from the bottom parking lot, if for no other reason than I'm a glutton for punishment. At the top, after you've climbed something like 1800 feet in 6 miles, you'll be at one of two view points. The northern one has an amazing view of the north Puget Sound and San Juan Islands. The southern lookout also has a great view of the Skagit valley and the tulip fields if they're in bloom. The ride up is steep and there's a lot of pushing the bike involved, but it's well worth the workout. The ride down is fast and amazing, twisting and flowing through the woods the whole way.
Boise Front Trails, Boise, ID

A huge number of trails in southern Idaho: If there's one thing that can be said for Boise, it's that they love mountain biking. And if they don't, well then they just have way too much land. Boise riding is much like Sun Valley, but much less expensive to get a hotel, and much longer riding season. Beware, though: summers get very hot. There is a veritable maze of trails within a mile of the city. Yes, one mile. They are smooth and flowing, with no rocks and no roots. Just don't fall off the trail...burrs and cactus await the unwary. The people in Boise very much like, use, and protect their trails, at least when I was there in 2004. I also went north a bit to McCall, Idaho to ride there. There was a forest fire going on, though, so I couldn't finish my intended route. So it was back to Boise to ride on their sweet single track too. Thrown in for good measure are photos of a close-by derelict mining town, as well as of Boise itself.
Cherry Valley, Duvall, WA

The trails I never found: Oddly enough, there are apparently lots and lots of trails up there. It's certainly a large-enough area. And very nice countryside. But, somehow, when I went there, apparently I wasn't given the secret decoder ring, nor the secret handshake. Because I found almost none of the fabled trails that people claimed are there. Oh well. For me, down here in Renton, it's a rather long drive. I got some photos, but mostly just rode on the logging roads, which was fine for me on that day. There supposedly is a nice waterfall, but by the time I was nearby, I was frustrated at finding no trails that I didn't bother looking for them.
Deschutes River Trail, The Dalles, OR
The hot part. The dry part. The unrelenting sun part: If you read the guidebooks about this trail, they pretty much say to stay away from it. Is it technical? No, not at all. Is it beautiful? If you like desert, sure! Is it fast and flowing? Um, no, it's an old railroad bed. But, at least it's not hilly. I rode this trail on somewhat of a lark in August 2005, while staying in The Dalles to ride the Mt Hood area of Oregon. Aside from the totally cool power generating plant named "The Big Eddy" on the Columbia River, there's not much in The Dalles. This trail follows the Deschutes River south, with not much winding, and almost zero climbing. There are some rock formations, but there are nearly no trees. The river is nice, but you're far enough away from it that it's not like you're going to go wading in it. The trail abruptly ends at an old house, and then you turn around and go back. Bleak. Desolate. Desert. There is no avoiding the sun here, so bring enough water and food. Wear sunscreen. It was amazing how the heat and sun made this a more-difficult ride than it would otherwise be.
Eightmile Creek, Mount Hood, OR

A fun and frollicking romp in the forest: Eighmile Creek is a ride that seems to fade out of memory. No turmoil, no death-defying precipices, no hike-a-bike, and not even any really technical streches. And yet, it's a great ride. Smooth flowing swoopy trails through some nice well-drained forests. A little bit of altitude to make you feel you're in the mountains, easy access to the highway, and just a really nice easy ride. Of the three loops shown on the topographical map, this is the shortest, and also the most fun. But, it's also the shortest. So if you're out doing the more nightmarish fifteenmile creek trail, be sure to do this one first...before the other one beats you into a tired and bloodied pulp.
Ironhorse Trail, Snoqualmie Pass, WA

John Wayne State Park and Ironhorse Trail: Granted, the "park" isn't much wider than the "trail", but the signs seem quite insistent that they are different entities. Must be a funding thing. In any even, the Ironhorse trail is a great accomplishment for bicyclists. You can take the trail from North Bend pretty much across the entire state of Washington, all the way to Spokane. It is indeed an old railway line, so the slopes are very gradual, and the scenery is breathtaking. On this particular section, from North Bend to Rattlesnake Lake and up to the old tunnel (now closed, I believe) you'll have great views of the I90 corridor, and lots and lots of trees. The trail is quite wide and well used and in great shape. Just watch for snow if you're not riding in the summertime. If you can, definitely ride through the tunnel at the top, to come out on the other side of Snoqualmie Pass, in the ski-resort town of Hyak.
Kachess Ridge Loop, Easton, WA

A great loop either way you go: Ah, Kachess Ridge. This is a splendid example of Cascade mountain biking. It's nice and long, there's a good deal of elevation gain at the start, but it's well worth it. There's a bit of hike-a-bike, and bunch of sketchy downhill, and a whole heapin' helpin' of smooth flowing singletrack. I think I've ridden Kachess Ridge 5 times now. I tend to prefer the clockwise direction, but many think the road climb is unworthy. I find it easier to climb on the road, and the views northwest over Lake Kachess are pretty cool as you climb that road. Once you're at the top you're rewarded with the wonderful trails that slow descend the ridge and valley back to the car. If you ride up the trail and then back down, it's still great, but the trail seems to climb faster and harder than just moseying up the road. There are stream crossings as you come down the valley, but nothing major. Do remember to bring warm clothes, maybe even a jacket and plenty of food and water. Weather at the top is often not the same as at the bottom.
Lake Tahoe Road Loop, Lake Tahoe, CA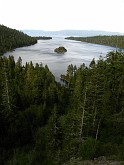 A Grueling Beauty of a road ride: Yes, Lake Tahoe is splendid to look at. The weather is wonderful, the car drivers are mostly courteous of bicyclists, and the roads are in good shape. What could go wrong with a simple circumnavigation? Well, first of all, it's one BIG lake! Riding around it is a 75 mile ride, with plenty of ups and downs. Something like 5000 total feet of climbing. There are some good long hills, and of course, many of those hills are on the windy narrow dangerous parts of the road. But, the ride is definitely worth it. I've ridden the early-June America's Most Beautiful Bike Ride (AMBRR) twice now, and it was very enjoyable both times. If you do, be sure to do the full 100 miles...the ride down to and out of Truckee will, um, "build character". Most of the pictures shown in this photo album are actually from me driving around the lake; taking pictures while doing a road ride doesn't usually lend for getting really good shots. So I drove around the lake the day after the ride.
Loon Lake Loop, McCall, ID
One of Lake McCall's many trails: Ever had one of those rides? You know the ones. You arrive at the trailhead and it immediately starts pouring rain. You wait, hoping it will stop, and sure enough, 1/2 hour later, the sun comes out and the sky clears. You hop on your bike and head out for a full-day ride. You're just settling into the singletrack when the forest gives way to more open woods, and your delicious ribbon turns to wide roads and gutted jeep tracks. But, you persevere on, for no other reason than the GPS says to. You ride and eventually come to a beautiful lake. You meet a couple of other riders, and life is great. You have a little lunch, and you set out for the rest of the ride. And then you come to the yellow "WARNING: FIRE DANGER" tape across the trail. And the Forestry Ranger on his motorcycle telling you to leave. Now. The fire is coming. Well, okay, it's still 12 miles away...but you have to leave. Now. And so you turn around and you head back. Yes, that's how the Loon Lake Loop went for me. I'd do it again, but without all the weirdness. Seemed like a really nice place to ride.
Mrazek Trail 32, Bend, OR

It just keeps going, and going....: This is one amazing trail. It starts at Shevlin Park in Bend, OR, and from there quickly heads out across the flats, up through some forests, and just keeps going up and up and up. While the uphill might make you think it's hard, it's a very gradual uphill. There are very few switchbacks, and no spots of hike-a-bike at all. Smooth, well maintained trails the whole way. There were even some fun "technical trail features", but nothing at all difficult. Once you get to the trailhead at the top, where there's a parking lot and plenty of other people, you just turn around, and enjoy that same smooth trail with now a very slight downhill all the way down. It's almost a crime that it goes by so fast; you just want it to keep going and going and going. If you're in Bend, you HAVE to do this trail. A ways out from the park is also Tumalo Falls, but bikes aren't allowed on that trail, no doubt due to the large number of hikers.
Newberry Caldera Rim Trail, Bend, OR

Good trail, great views, and pumice to ride on: This is quite possibly my favorite ride in the Bend, OR area. It's not that heavily used, it has some good by not to painful elevation gain, and the trail is well marked. In fact, the only thing I didn't like was that the ride ended. The ride up from the parking area starts off through the forest, and then you pop out onto a road for about a 1 mile climb. But once you get to the main trail, it's all wonderfully graded, nice and smooth. There are a few sections that for newcomers will be very odd-feeling. Not dangerous, but weird. It's because you're riding on small pebbles of pumice, a type of lava. The pebbles squirm past each other almost like sand, but it's decidely not sand. So cornering is more like surfing, but the straights don't plow under as badly as sand might. The views of Lake Paulina are just amazing, and once you're up on the rim, there's almost no elevation gain or loss. The ride seemed just the right length, but do bring food and water, because there are no shortcuts back to the car!
Palisades Loop Trail, Greenwater, WA

Amazing loop trail east of Mount Rainier: If you ride MTB in the PNW (Pacific Northwest), this is one trail you must do. With occasional glimpses of the sleeping volcano Mount Rainier, and some pretty decent elevation gain, combined with flowly smooth single track and a dose of technical rocky descent, this is quintessential riding at it's best. After the long road ride up the hill, the trail becomes true paradise as you glide through alpine meadows and moderately open forest. Be sure to stop at "the shack" for some rest and food. And then the major descent begins, so hold on! There is one section that's very rocky, so watch for that; it's pretty technical if you choose to ride it. Once at the bottom, you're thinking "I want more!". And more is what you get, with the up and down flowy trail that leads back to the car. A great ride, with great views of the White River Valley and of course Mount Rainier. Highly recommended.
Snoqualmie Valley Trail, Snoqualmie Falls, WA
Rail trail through the forested Cascade foothills: Like most rails-to-trail projects, the Snoqualmie Valley trail goes from one lumber/agricultural/industrial area to other ones. After all, that's where the railroads went. But unlike a desolate grassland in the middle of nowhere, the Snoqualmie Valley Trail cuts through some of the most wonderfully wooded hillsides in the lower flanks of the Cascade Foothills. The best place to start is in Carnation, and then head up the trail toward Snoqualmie Falls. The trail starts in the flat farm and horse pastures of Carnation, and ends at an old concrete rail tunnel about 10 miles uphill. If you then climb the stairs on the far side up to Tokul Road, it's an easy couple miles to the actual falls, which are quite spectacular. The trail is wide and well graded, and soft-surfaced the whole way. Scenery is great, with the occasional sweeping vistas of the valley, and a couple old wooden railroad trestles spanning deep gullies. And, as a bonus there is are several networks of singletrack adjacent to this trail; you'll see them as they connect to the rail trail.
Sunday Road Ride, Bend, OR

A leisurely ride that proved harder than expected: When you go to Bend, it's tempting to completely skip the road riding and just revel in the amazing singletrack. And yet, lots of people enjoy riding the roads too. There are some wonderfully long country highways and smaller roads. Some of which, sadly, abruptly become unpaved and more than a bit sketchy for road bike tires. But if you stick to the main roads, you'll be rewarded with some excellent miles. On this particular Sunday, I wanted to ride out of town toward Mount Bachelor, the local ski resort. Through town the ride was great, but by the time I'd reached the Edison Ice Caves turnoff, I'd had more than I cared to admit. I was never sure if it was the elevation, the constant long slow climbing, the chip-seal rough pavement, or what. Either way, I didn't make it as far as I'd hoped, but got some decent pictures despite sweating profusely.
Taylor Mountain State Park, Maple Valley, WA

Great scenery in a hill-climb training zone: While there are singletrack trails on this mountain at the base of the Cascades, they are very heavily used by horses, and so mud-holes abound. I don't really recommend riding the singletrack, but some people certainly do. Whatever you do, please always remember there might be horses and riders around any turn, so be courteous, don't scare them, and be friendly. I've heard lately that the Seattle Watershed finally lets people go from the old turnaround up to the top of Taylor Mountain, but I haven't gone there myself. This ride, if you start down at 208th St and 298th Ave, rises about 2000 feet in just over 6 miles. It's a good sustained hill-climbing training ride, especially given that it's a gravel road the whole way. So you learn not only how to pace yourself, but also practice smooth pedaling.
Towers of Power, Renton, WA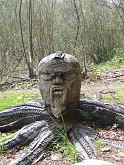 Technical Twisty Trails right here in Renton: This trail system goes by several names, but it's proper name is that used here. The other names "Tapeworm", "Mr. DNA", and even "Crop Circles" are actually those of trails in this splendid little inner-city trail system. The trails are under and near the power lines that feed the Boeing Plant in Renton, and only 7 miles from my house. There is quite some room here, just up the hill from downtown Renton. These are great trails for getting your agility and on-bike handling skills back if you're rusty. The significant and steep short hills are also great for getting some serious anaerobic leg strength training. All in all, a great set of trails. Crop Circles, when it's clear, is a fun, silly ride. Tapeworm is twisty-turny goodness, while Mr. DNA adds more technical work in the form of log jumps and such. My fave is definitely Tapeworm.
Arc De Triomphe and Eiffel Tower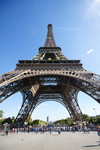 The Arc and the Tower: What trip to France would be complete without visiting these iconic, and frankly HUGE monuments. Margot and I figured we had only so many days, and on the map the two seem like they're right next door, and we wanted to get the more touristy areas done in one major day. So we went back to the gardens near the Louvre, and walked up the Champs Elysee, walked around the Arc, but not up it this time. We then walked down the deceptively long Rue Kleber where all the embassies are, and then to the Eiffel Tower. We went up the tower and took quite a few photos of the surrounding areas. Once back on the ground, we decided we were tired, so we took a taxi back to the hotel, took a nap, and then came back to the Arc De Triomphe at 10pm to see the light show playing on the Eiffel Tower. So up we climbed, only to be told "sorry, no tripods". Oh well, we made do, and got some decent photos nonetheless. Even witnessed a car accident far far below!
Cathedral Notre Dame De Paris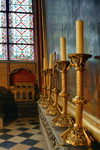 The old and magnificent Cathedral Notre Dame...in Paris: I think that description pretty well sums it up. Yes, it's very large. Yes, it's very old. And yes, it's a church where people go to worship every day of the year. The architecture, the sheer size of it, the stained glass, and the Catholic significance is very impressive. The thing to remember about "Notre Dame" is that there are LOTS of them. Heck, there's one in Indiana! In this case, it's the Cathedral that was built in Paris, thus the name. Later on in the trip we visited a much cleaner Notre Dame, in Saint Nickolas. And no, I don't mean Santa Claus. The Cathedral Notre Dame de Paris sits on the island named Cites, right in the middle of the River Seine. There are more photos of the area around the Cathedral in the Cites section of the Areas of Paris album.