To see the pictures, select from the photo albums below. In many of them, there are more photos than you might see at first; they have sub-folders inside the albums. Some albums allow comments, others don't. To navigate among the albums when you're away from this home page, use the drop-down list above, or click the site name above. I hope you enjoy viewing the photos as much as I did taking them.
Arc De Triomphe and Eiffel Tower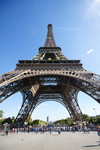 The Arc and the Tower: What trip to France would be complete without visiting these iconic, and frankly HUGE monuments. Margot and I figured we had only so many days, and on the map the two seem like they're right next door, and we wanted to get the more touristy areas done in one major day. So we went back to the gardens near the Louvre, and walked up the Champs Elysee, walked around the Arc, but not up it this time. We then walked down the deceptively long Rue Kleber where all the embassies are, and then to the Eiffel Tower. We went up the tower and took quite a few photos of the surrounding areas. Once back on the ground, we decided we were tired, so we took a taxi back to the hotel, took a nap, and then came back to the Arc De Triomphe at 10pm to see the light show playing on the Eiffel Tower. So up we climbed, only to be told "sorry, no tripods". Oh well, we made do, and got some decent photos nonetheless. Even witnessed a car accident far far below!
Cathedral Notre Dame De Paris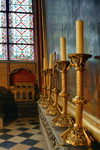 The old and magnificent Cathedral Notre Dame...in Paris: I think that description pretty well sums it up. Yes, it's very large. Yes, it's very old. And yes, it's a church where people go to worship every day of the year. The architecture, the sheer size of it, the stained glass, and the Catholic significance is very impressive. The thing to remember about "Notre Dame" is that there are LOTS of them. Heck, there's one in Indiana! In this case, it's the Cathedral that was built in Paris, thus the name. Later on in the trip we visited a much cleaner Notre Dame, in Saint Nickolas. And no, I don't mean Santa Claus. The Cathedral Notre Dame de Paris sits on the island named Cites, right in the middle of the River Seine. There are more photos of the area around the Cathedral in the Cites section of the Areas of Paris album.